VR headsets. Iconic buildings. Lush greenery. Today, we're sharing the stories behind five Sony World Photography Awards pictures. Chosen from over 415,000 submissions, these Professional finalists shine for their technical skill and original approach. Our selection spans architecture, portraiture, sport and nature – taking the temperature of image-making today. Hear from the artists in their own words:
1. Taiye Omokore, Ire, 2023 (above)
"We study to gain information, so that we might recognise the true significance of the future. This photograph conveys the attempt of a little girl to feel what the future could be like. The image was taken at Barry Island, Wales, in 2022. In my body of work – Into the Unknown – love, identity and purpose are all intertwined. Humans instinctively look for answers to problems. We want a greater understanding of our feelings, motivations and identities. The question is: can we all find answers to our mysteries?"
2. Andres Gallardo Albajar, Muralla Roja, 2023 (above)
"Designed by Ricardo Bofill, the Muralla Roja apartment complex is one of the most iconic pieces of Spanish architecture. Over the years I have revisited this place to photograph it again and again. On my last visit, in December 2021, my goal was to create a totally different series by capturing the Muralla Roja during the day, at sunset, at night and at sunrise. I started shooting very early in the morning and continued well into the night. I then woke early to experience an unforgettable sunrise. After a few hours, it felt like this was the best spot to take a break, so I found a chair and brought it over. I knew this would be a great photograph. Sadly, Ricardo Bofill passed away just a few weeks after I made this image, and so this empty chair acquired a lot of symbolism. I consider this series to be a personal tribute to him and his legacy."
3. Dillon Marsh, Arcadia Place 8, 2023 (below left)
"A few years ago, an old retirement home in my neighbourhood – near Observatory, Cape Town – was demolished to make way for a larger one. However, construction has been delayed and the plot of land left to its own devices. An array of weeds has sprung up among the rubble, interweaving with the wild growth of surviving flora from the original gardens. High walls hide the plot from busy streets surrounding it, but the presence of humans is evident in the scattered wind-blown rubbish that rests amongst the foliage. This still feels like a protected space, though, and has even become home to a colony of bees. The old home was called Arcadia Place, a name that suggests a peaceful pastoral setting. This seems even more appropriate now, although construction will eventually begin and this inadvertent sanctuary will come to an end."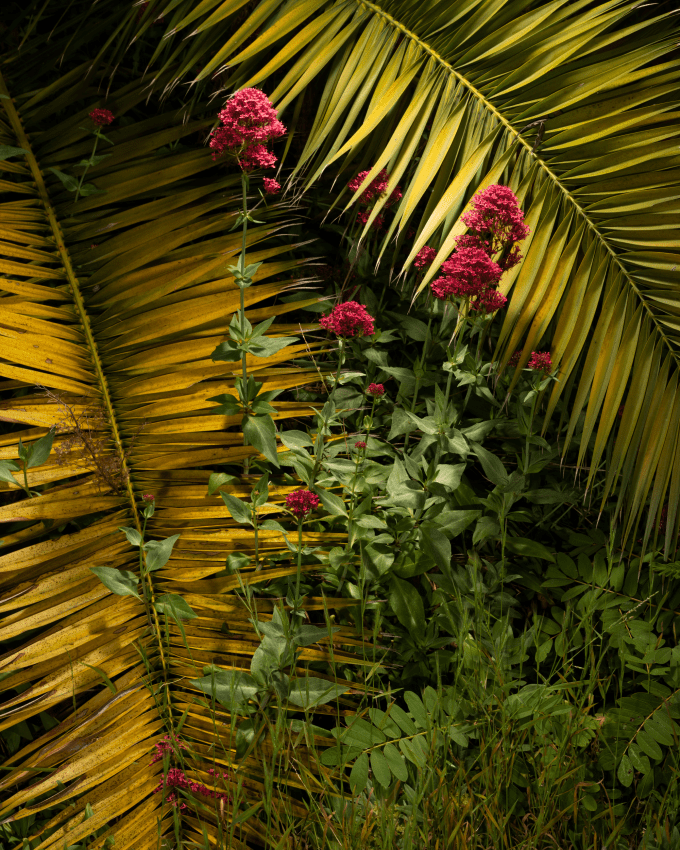 4. Ines Vansteenkiste-Muylle, Headwear in Our Pool, 2023 (above right)
"This is part of a 2022 collaboration between myself, Marc Martha and Eveline Briand. The series aims to represent people who wear hijabs or other headpieces in the water, either because of their religion or to protect their hair. We were shocked by the number of public pools that did not accept this. However, Aqua Heaven – a private sauna – accepted us because they often have people with hijabs in their pools. These are pictures from a small series I started myself: Communities I Love. Each one is a collaboration, or a depiction of a community. My recent work has seen me work with the LGBTQ+, Afro-Caribbean and Muslim communities…. talking to the people I'm depicting is a very important part of the process."
5. Ronald Hoogendoorn, Untitled, 2023 (below)
"In 2022, the FIVB Volleyball Women's World Championship was held in the Netherlands and Poland with unprecedented success. 24 teams took part, playing across six venues in the Netherlands and Poland, starting in the GelreDome Arena, a football stadium converted into a volleyball temple. Serbia ultimately took the gold medal, with silver going to Brazil and Italy winning bronze. This photograph depicts Team Netherlands during the Championship: versus Argentina at the Ahoy Arena, Rotterdam, 4 October 2022."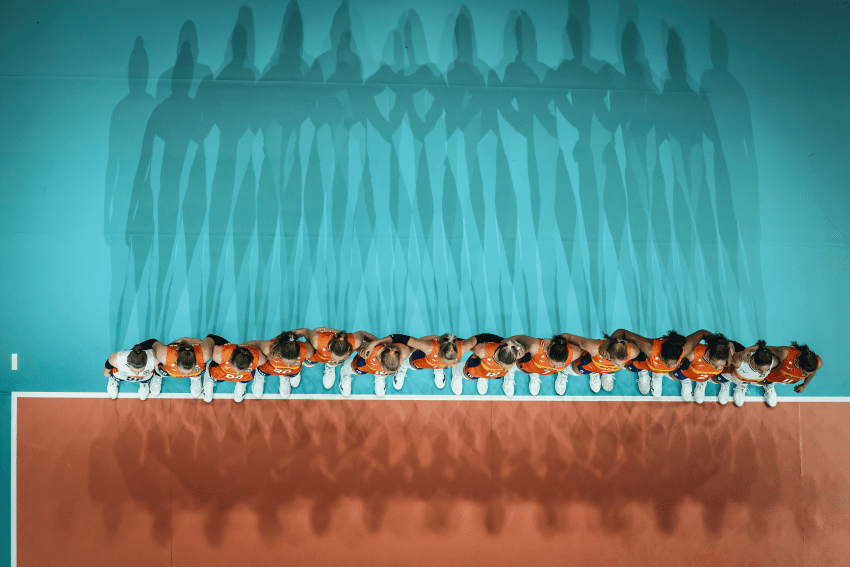 ---
The winner of Photographer of the Year 2023 is chosen from the Professional finalists and announced on 13 April. A selection of images by finalists and shortlisted photographers will be exhibited as part of the Sony World Photography Awards at Somerset House, London, from 14 April-1 May 2023.
---
Image Credits:
1. © Taiye Omokore, Nigeria, Shortlist, Professional competition, Portfolio, Sony World Photography Awards 2023
2. © Andres Gallardo Albajar, Spain, Finalist, Professional competition, Architecture & Design, Sony World Photography Awards 2023
3.© Dillon Marsh, South Africa, Shortlist, Professional competition, Wildlife & Nature, Sony World Photography Awards 2023
4. © Ines Vansteenkiste-Muylle, Belgium, Shortlist, Professional competition, Portfolio, Sony World Photography Awards 2023
5. © Ronald Hoogendoorn, Netherlands, Shortlist, Professional competition, Sport, Sony World Photography Awards 2023