For its 2023 edition in Basel, the Switzerland-based fair brings together 284 leading international galleries from the 15 – 18 June. High quality artworks across all media are on show – from painting and sculpture to photography and digital works – by artists ranging from early-twentieth-century Modern pioneers to contemporary practitioners. A strong line-up of exhibitors from across Europe will be joined by new and returning spaces such as David Castillo, Frith Street, Pace and Thomas Erben Gallery. The event will also stage a site-specific presentation by Moroccan, Swiss-based sculptor and installation artist Latifa Echakhch on the city's Messeplatz. The artist, who represented Switzerland at the 59th Venice Biennale in 2022, with her work The Concert, has a long tradition of working with found elements – using them in artworks that counter contradiction, prejudice and stereotypes. Elsewhere, renowned artists such as Barbara Kruger and Cornelia Parker are on display, with installations that look at the implications of consumer culture, the natural world and technology. In this roundup, we look at five works to check out.
Barbara Kruger | David Zwirner
More than 40 years into her boundary-breaking career, Barbara Kruger (b. 1945) continues to combine text and pictures in artworks that engage with powerful imagery and cultural commentary. Her multi-channel video Untitled (Our Leader) (1987/2020) returns to her vinyl works from the late 1980s, casting them alongside LED animations and captions that read "Remember me / Dismember me / Delete me." Words morph into other meanings, as questions of politics, power and influence arise.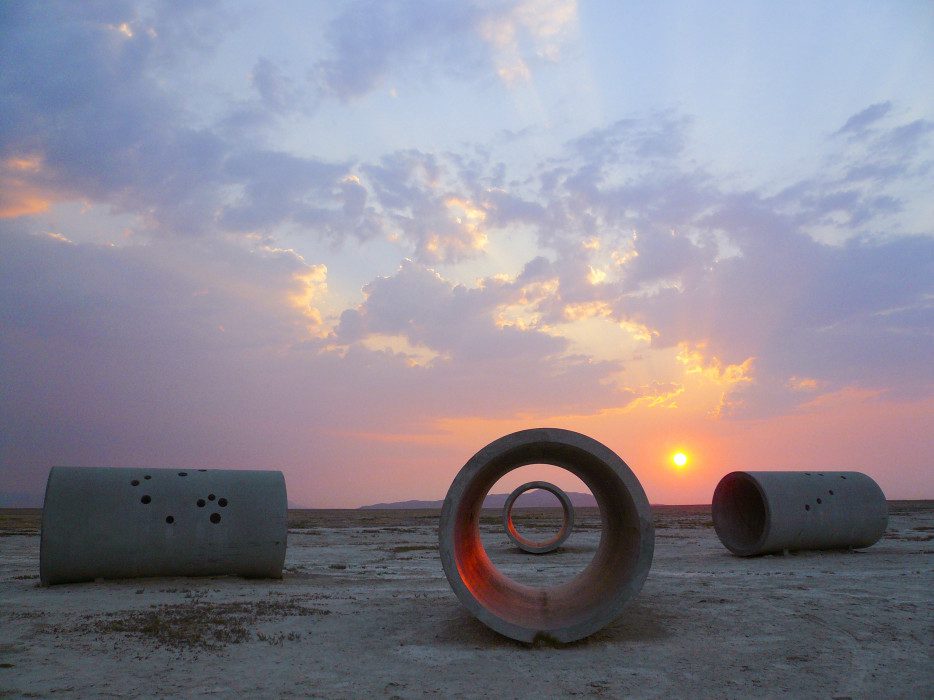 Nancy Holt | Sprueth Magers
"I feel that the need to look at the sky – at the moon and stars – is very basic, and it is inside all of us." Nancy Holt's (b. 1938) sculptures portray light as an aesthetic concept, an artistic medium and a physical reality. The artist is known for large-scale works such as Sun Tunnels (1976) and Dark Star Park (1984) that examine the vastness of space. Mirrors of Light I (1974) shows at Art Basel, in a room-sized installation of ten circular mirrors that appear to "make light material", generating a relationship between reflection and viewer.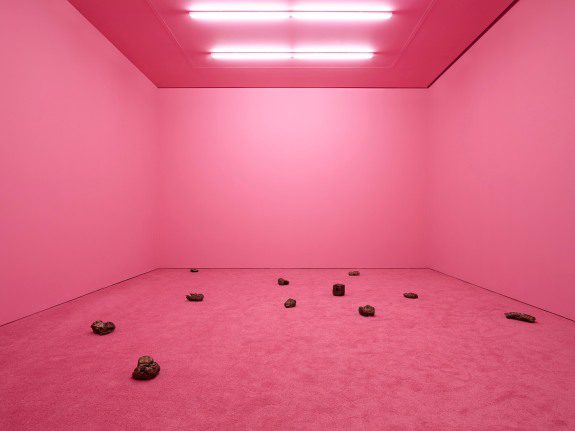 He Xiangyu | Andrew Kreps Gallery
The Beijing and Berlin-based artist works in disciplines that span drawing, installation and sculpture, as he explores objects and symbols of everyday life. Xiangyu's work emerges as a product of a generation who experienced rapid urbanisation in China, with exhibitions looking to shift perceptions of Chinese cultural signifiers. These move from the political to the personal, such as Everything We Create is Not Ourselves (2012), in which a neon pink room is filled with copper casts based on the inside of the artist's mouth.
Latifa Echakhch | Pace Gallery
Curated by Samuel Leuenberger, Latifa Echakhch (b. 1974) presents on the city's Messeplatz at the entrance of the fair. Titled Der Allplatz (2023), the installation recalls the idea of a deconstructed stage, as a symbol of wreckage and ruin, "uncovering the hope and possibilities that lie within." It functions as a backdrop for a series of live events, including a concert by performance artist Naama Tsabar. Through its combination of geometry and sonic resonance, the work extends the art fair into the fabric of the city.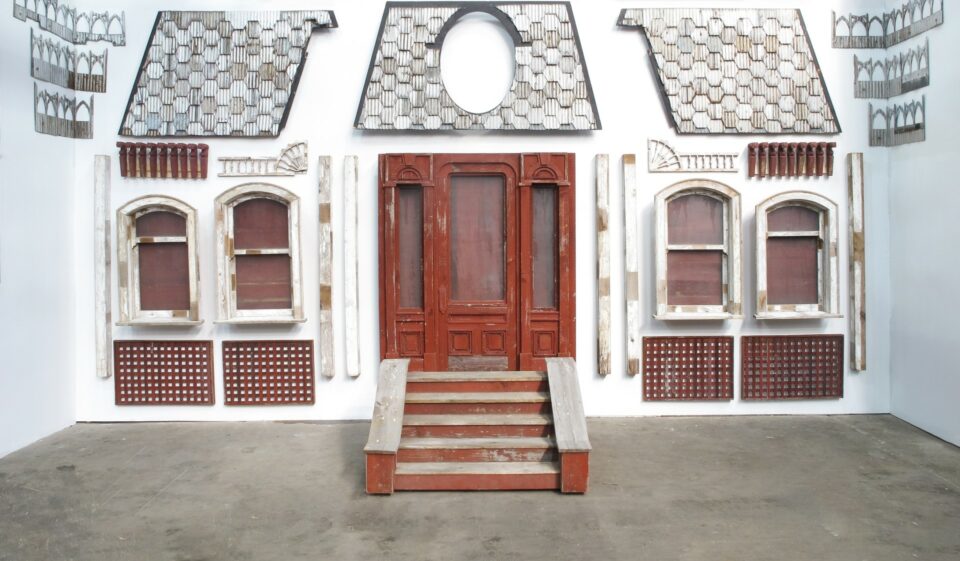 Cornelia Parker | Frith Street Gallery
The acclaimed artist showcases PsychoBarn (Cut Up) (2023), created from elements of an earlier work, Transitional Object (PsychoBarn) (2016), commissioned by the Metropolitan Museum. The building is a copy of the famed mansion of the 1960 Hitchcock film Psycho, constructed from pieces of an old archetypal red barn. The new installation deconstructs the structure as an exploded view, where corrugated metal, doors and windows have been reordered using a Dadaist cut-up technique to create a new composition.
---
artbasel.com | 15 – 18 June
---
Image Credits:
1. Sara Barth, Messeplatz at Art Basel © MCH Messe Schweiz (Basel) AG
2. Barbara Kruger Belief and Doubt (2012) Hirshhorn Museum (lower level lobby) Courtesy of Spruth Magers Berlin London
3. Nancy Holt, Sun Tunnels, 1973–76. Great Basin Desert, Utah. Dia Art Foundation with support from Holt/Smithson Foundation. © Holt/Smithson Foundation and Dia Art Foundation/Licensed by VAGA at Artists Rights Society (ARS), New York. Photo: ZCZ Films/James Fox, courtesy Holt/Smithson Foundation
4. He Xiangyu, Everything We Create is Not Ourselves, 2012-2013, © He Xiangyu, Photo: Ben Westoby, Courtesy White Cube
5. Cornelia Parker, PsychoBarn (Cut Up) (2023). As exhibited at Art Unlimited 2023. Photo courtesy of artist and Frith Street Gallery, London
---