One month. 100 exhibitions. European Month of Photography celebrates its tenth edition in 2023. The event is Germany's largest biennial festival of images, bringing together museums, galleries, cultural institutions and over 500 artists. The anniversary theme is Touch – relating to a desire for connection and contact. Each exhibition asks: how does art touch us, and what does touch mean today? In an age saturated by screens, our sense of what we can feel – or be in relation to – has drastically altered. In this roundup, five artists consider ideas of utopia, escape and unrest. American landscapes unsettle, whilst German coastlines provide space to breathe. The digital world is juxtaposed with the natural environment, with both screens and plants used as tools to understand modern behaviour. These photographs explore what it is to live – and connect – in today's rapidly changing world.
Pola Siverding | Contact Zone
Pola Siverding (b. 1981, above) considers the relation between skin and screen, observing our relationship with technology. Here, a figure in a monochromatic blue hoodie gazes at their phone, the details of their face lit up by its glow. The human body melts into pixels as the barrier between physical and cyber dissolve. Siverding's photographs appear in Contact Zone, an exhibition exploring the connection between the human and physical world, where the most intimate of moments are digitised.
Anastasia Samoylova | Floridas
Anastasia Samoylova's (b. 1984) Floridas is a series of cityscapes in which pink flamingos and palm trees prevail. The Sunshine State is rendered both dreamlike and dystopian – the American dream glimmering and full of contradiction. Visions of paradise are marked by political division and physical decay. Alligators recede into empty swimming pools whilst car parks are left to rust under pastel skies. Social division and the climate crisis linger in these subtropical scenes, reminding us of the precarious state of our world.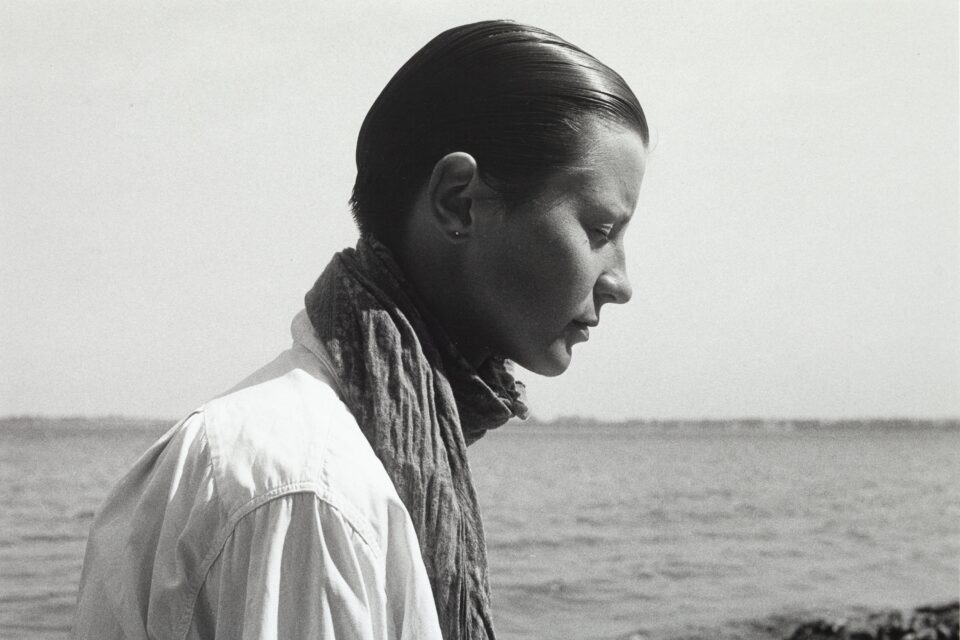 Ulrich Wüst | In-Between Spaces
Ulrich Wüst (b. 1949) spent over a decade documenting East Germany, highlighting the reality of living in the German Democratic Republic (GDR). In the resulting black-and-white images, photography performs as escapism, showing how open landscapes and countryside spaces can provide release. The preciousness of the ordinary is emphasised here, as a woman in a white shirt closes her eyes, basking in the sun. In-Between Spaces comprises 50 lyrical images that explore the transformative power of place.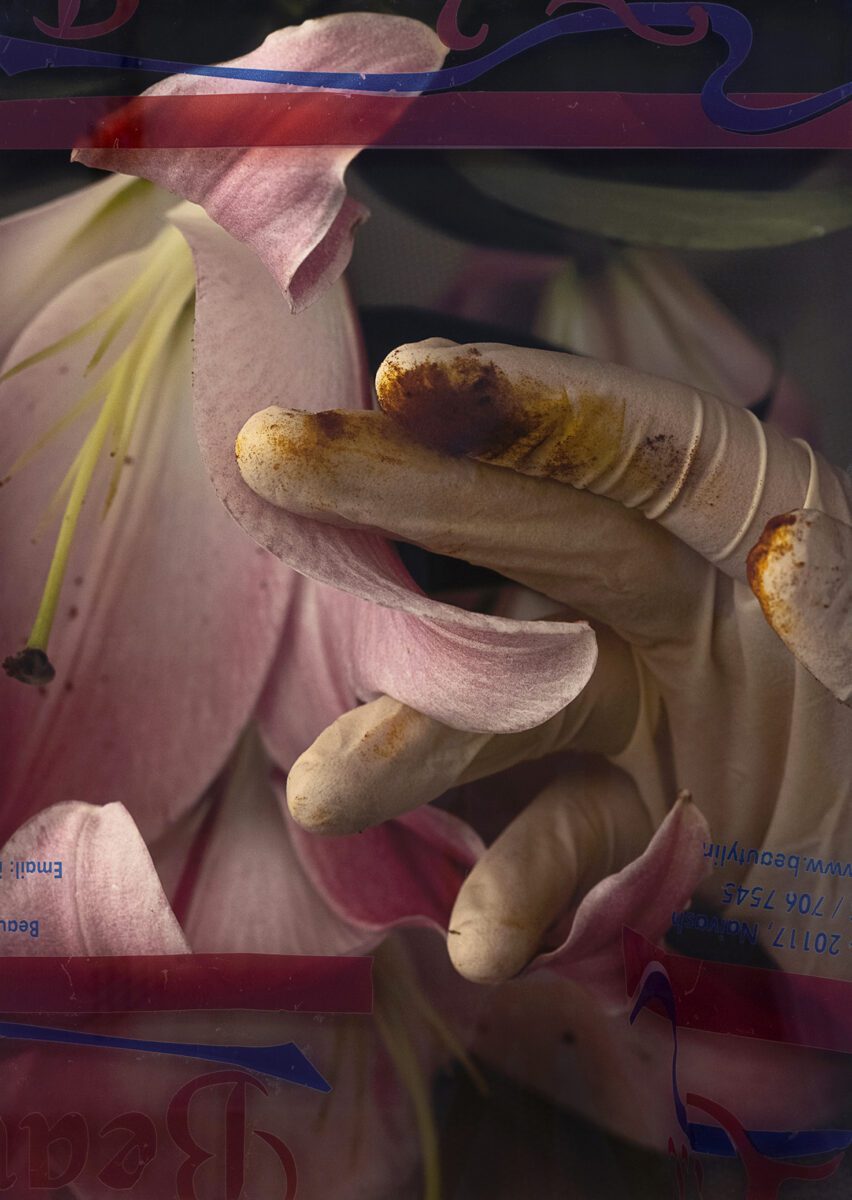 Luise Marchand | Muttererde
Luise Marchand (b. 1987) uses the floristry industry as a metaphor for capitalism: it is the topsoil, or those perceived higher up in society, that are prioritised and given the most resources. Marchand exposes the artifice involved in replicating natural forms in Muttererde, a series that captures synthetic manufacturing processes. The organic world, meanwhile, is framed as unruly and unpredictable – pinkened lilies spill open with pollutant pollen whilst gloved hands separate waxy petals in order to handle them.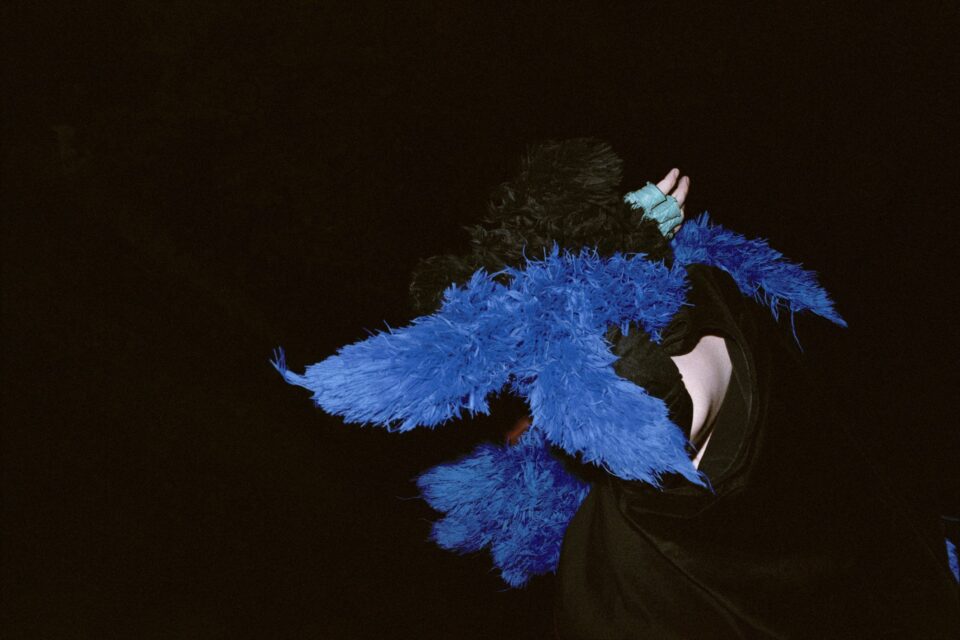 Maria Sewcz | Touch
Maria Sewcz (b. 1960) grew up in the GDR, born the year before the Berlin wall was erected. Her photographs frame moments of observation, momentum and unmet gazes. Ohne Titel depicts a woman shrouded in a blue feather boa. The figure is for the most part indiscernible, the black of her hair and top running into a darkened background. Only the curve of a shoulder bone can be made out before the image plunges back into darkness. Sewcz features in Touch, comprising 40 Berlin-based artists.
---
emop-berlin.eu | Until 31 March
Words: Chloe Elliott
---
Credits:
1. Office Impart, Pola Sieverding: NOCTURNL, 2020, Pigmentdruck auf Papier, 139 x 94cm © Pola Sieverding
2.Studio Hanniball, Anastasia Samoylova, Pink Sidewalk, aus der Serie FloodZone © Anastasia Samoylova 
3. LOOCK Galerie, Ulrich Wüst, Wohlenberger Wiek, 1983, aus der Serie Zwischenräume, 1979–1989, Archival pigment print, 18 x 24 cm © Ulrich Wüst
4. Luise Marchand, MEBL, aus der Serie Muttererde, 2022, Fine art print in object frame, print on museum glass © Luise Marchand, Courtesy Laura Mars Gallery.
5. Maria Sewcz – Ohne Titel, aus der Serie Chic, Charmant und Dauerhaft 1985/2023, Fine Art Print,33 x 49 cm © Maria Sewcz / VG Bild-Kunst