Deirdre Dyson is a world-renowned contemporary carpet and rug designer. For more than two decades, Dyson has crossed the boundaries of what might traditionally be considered "art" and "design" – blending ancient craft with new technologies to create striking geometric pieces for the home. Now, Dyson takes this a step further, translating her iconic motifs into a brand new series of oil paintings on canvas. The Design is Art exhibition –  presented by fine art dealer Simon Capstick-Dale and on view at London's Gallery Eight from 22 March until 6 April – began in lockdown, when, confined to her London apartment, Dyson could draw only on what she could see from her window. The featured works are inspired by everyday sights: the effect of looking at the world through a curved glass bottle, for example. We spoke to Dyson about working across art and design – and her interest in pattern, movement, light and shadow.
A: You have been designing contemporary rugs and carpets for over 20 years, yet this show describes you as "first and foremost a painter." How would you define your practice?
DD: I trained in fine art first, and then took a three-year diploma in illustration and graphic design at the Wimbledon College of Art. I had just completed a solo show of paintings in London when I accidentally had an opportunity to design carpets. I felt that I had all the skills required. My earlier paintings were figurative, so I had to start thinking more abstractly and focus on what others might like – rather than just pleasing myself. The plan has always been to do both painting and design alongside one another. My thought process in making a carpet is the same as a work on canvas, but the technique is different.
In terms of subject matter, I am fascinated by natural phenomena – for example, water, light and reflection, achieved through a free handling of paint. But I also like to play with geometry and colour in particular. I'm interested in the effects that can be achieved through grading tones within a single colour – a skill taught in art school which has long been a key part of my practice.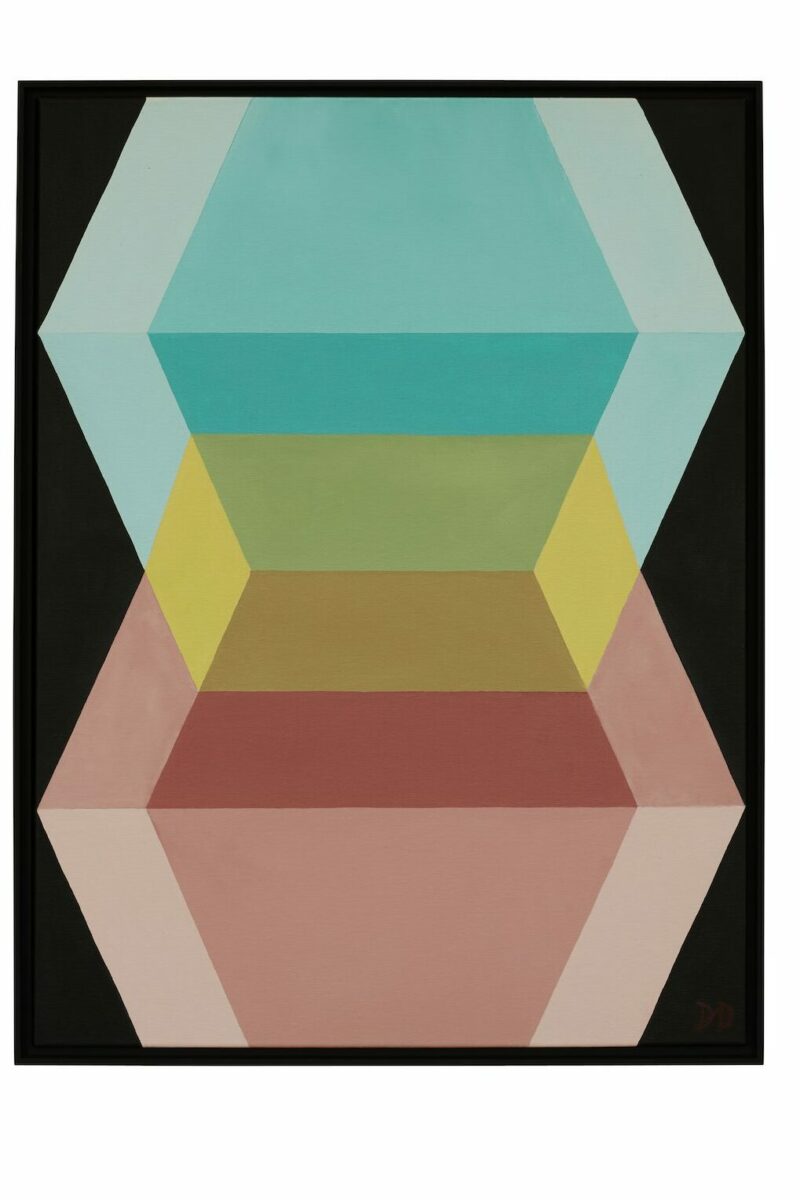 A: The title of the exhibition is Design is Art. Traditionally, Fine Art and Design have been regarded as separate practices. 20th century movements like The Bauhaus, however, sought to bring them together. What's your take on the relationship between the two disciplines?
DD: As a graphics and fine art student, the interest at the time was in Bridget Riley, Vasarely and the Op Art movement. Creatives who made colour work by itself. You could say Designs as Art, but I thought I would be brave and say Design is Art. Technically, the two approaches are very different. For this exhibition, I've painted straight lines with accuracy whilst still trying to instil colour transparency and a third dimension of space. These attributes can all be found in the carpets, too. The difference is that, on canvas, I'm doing it with colour and not form.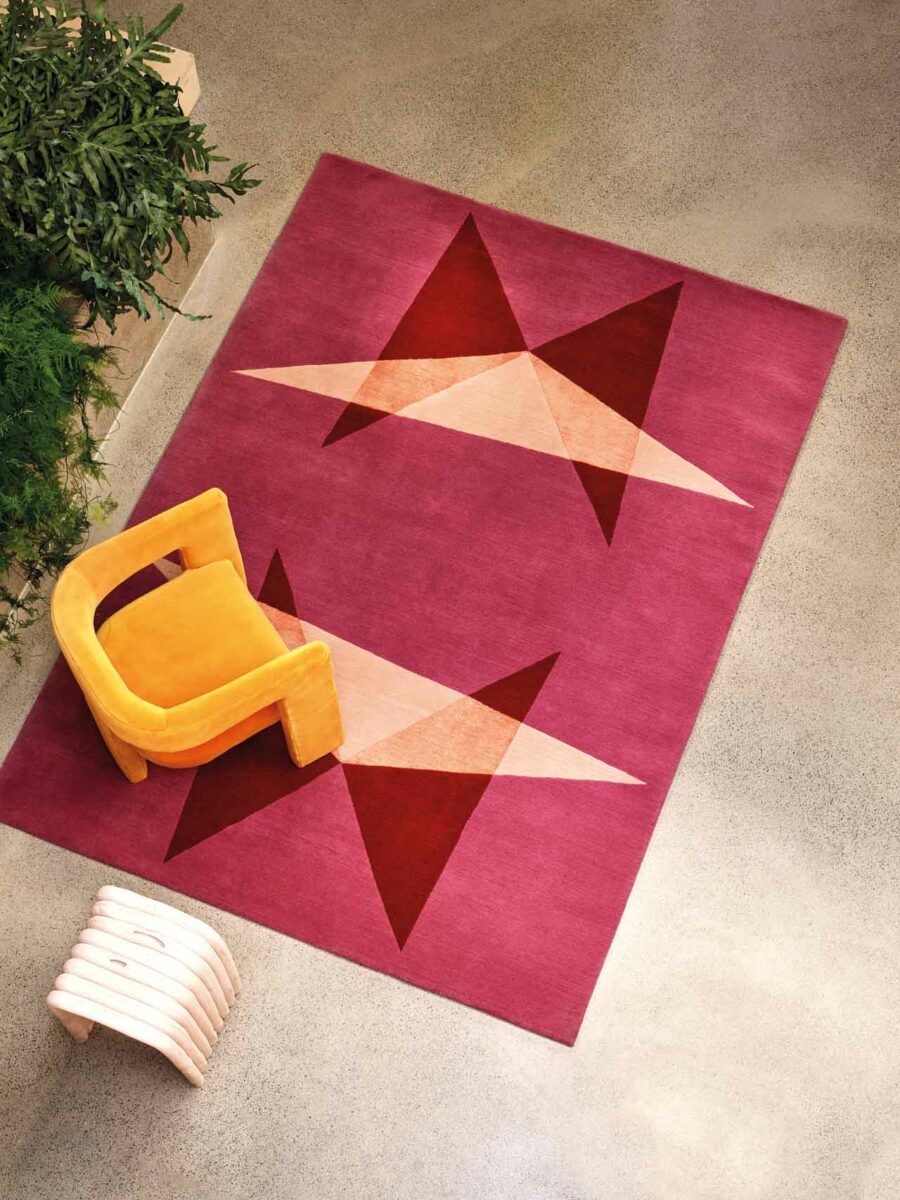 A: What are the practical differences between producing a work on canvas – to be displayed in a gallery – and designing carpets for the home?
DD: When I'm painting, I start with a blank canvas and a pretty good idea of what I want to do. I might set up something as reference, or hire a model. I begin freely and allow it to build in a very loose manner, keeping the whole image together at one level throughout. The painting itself tells me when it is finished. I've discovered that the idea for the next piece often occurs whilst working.
In terms of my carpet designs, each year I choose a theme, which allows me to explore lots of versions of the same subject. It's exciting and interesting. I have restrictions with regard to perimeter measurements and the design has to work within these. The final sketch has to be totally accurate to make a map for the weavers to produce an exact piece. I also have to be mindful of what a client might select for their floor, so I feel less free to use bold colours than in my personal work.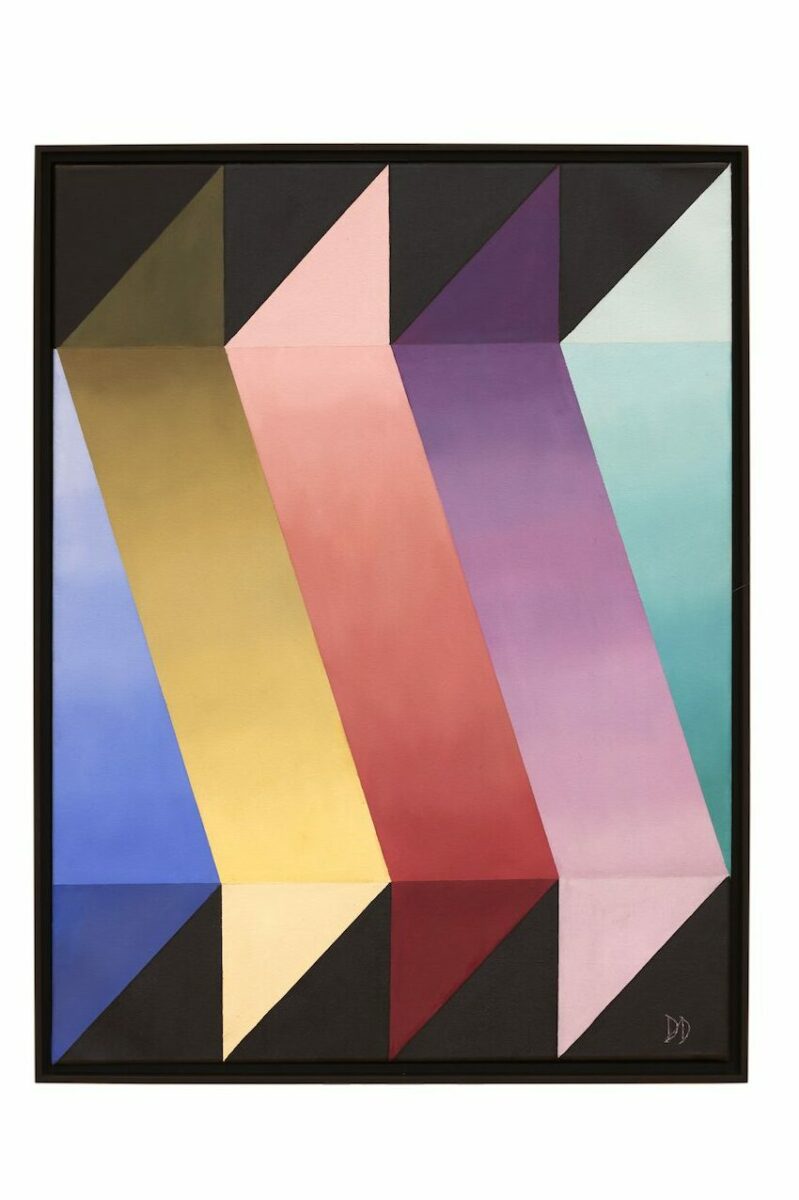 A: Will you adapt any of these paintings into rugs, or do you prefer to keep them as canvases?
DD: This year, I've found that the carpet designs have influenced my paintings, which have become more abstract. I tried a couple of the these on canvas and Simon Capstick-Dale, a fine art dealer who had shown my early paintings in London and New York, saw them and suggested I created more. Most of the work in this exhibition was previously a carpet design. To me they work well in wool and silk and as paint on canvas.
---
Simon Capstick-Dale @ Gallery Eight
8 Duke Street, St James's, London, SW1Y 6BN. 22 March until 6 April.
deirdredyson.com | galleryeight.com
---
Image Credits:
1. Deirdre Dyson, Tension, 2023 Collection – Angles.
2. Deirdre Dyson, Freedom, oil on canvas.
3. Deirdre Dyson, Glass Cubes, oil on canvas.
4. Deirdre Dyson, Hover, 2023 Collection – Angles
5. Deirdre Dyson, Can-can painting.
6. Deirdre Dyson, Hot & Cold, oil on canvas.