"I don't like to spy on people. I want them to know I'm taking their picture and want them to collaborate with me. If they felt like I was trying to get something out of them which they wouldn't like, it would be impossible." So goes the oft-quoted line by Evelyn Hofer (1922-2009), providing an insight into the German-American photographer's views on personhood and how best interact with subjects. The Photographers' Gallery, London, follows on from other exhibitions such as High Museum retrospective. It presents Hofer's first UK solo show, in a display that recounts her early work in Europe, her move to New York City, as well as later editorial commissions, spanning 45 years of image-making.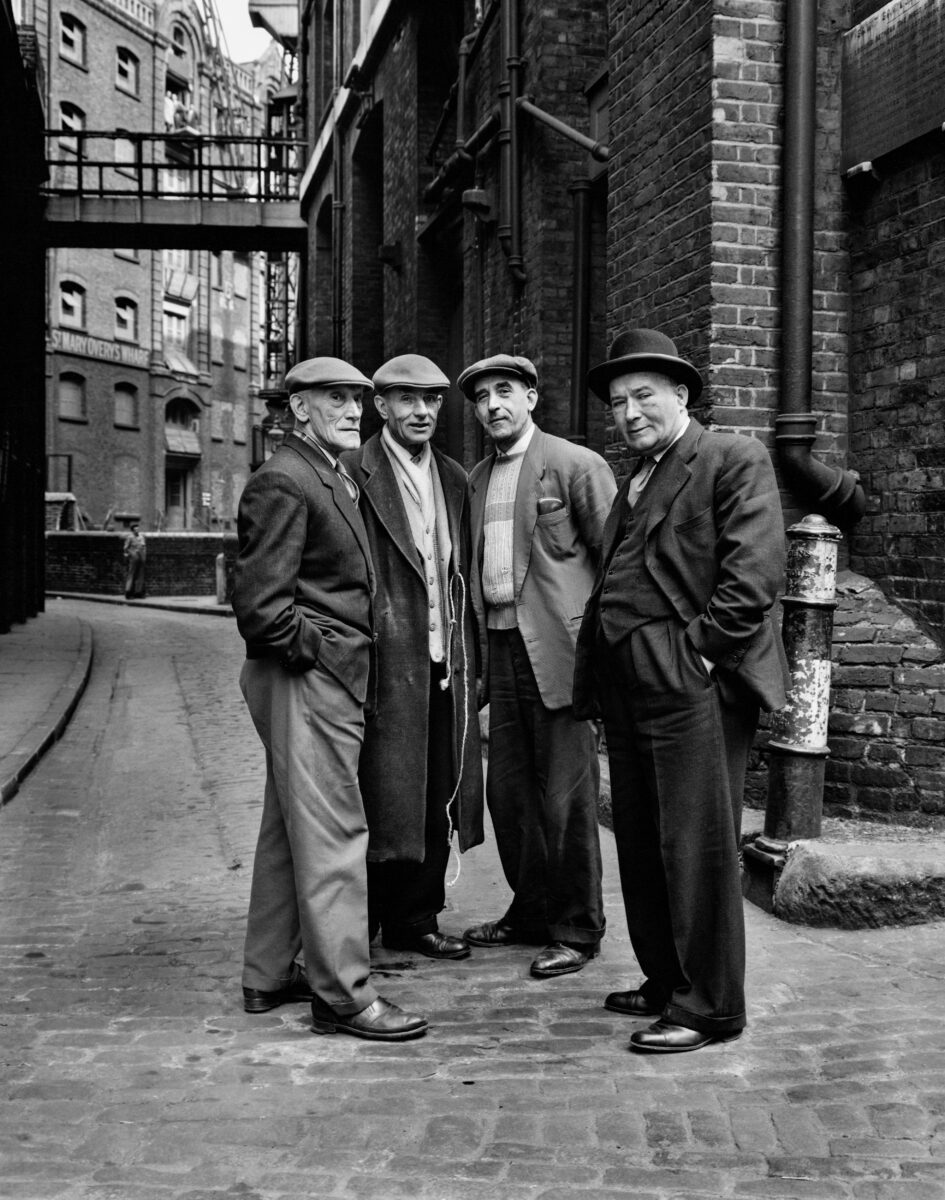 Although born in Marburg, Germany, Hofer left with her family to Geneva, followed by Spain and then Mexico in the early 1940s. She began an apprenticeship at Studio Bettina, a portrait studio, followed by private lessons with Hans Finsler (1891-1972), one of the pioneers of the New Objectivity movement. Here, she was taught theory and technique, learning composition alongside chemistry, as she familiarised herself with printmaking and dye transfer processes. These methods would come in handy for later pieces defined by their colourful and vibrant tones, such as Harlem Church, New York, (1964) or Springtime, Washington (1965). In the mid-1950s, Hofer embarked on a number of travel titles, featuring writers such as V.S. Pritchett. These series provided an invaluable opportunity to develop her own intimate style, as they examined the rigidity of loneliness and social class. Here, grey mist descends over The Mall and Westminster Bridge, whilst bowler hats blend into mahogany pub backboards, as shadows engulf light.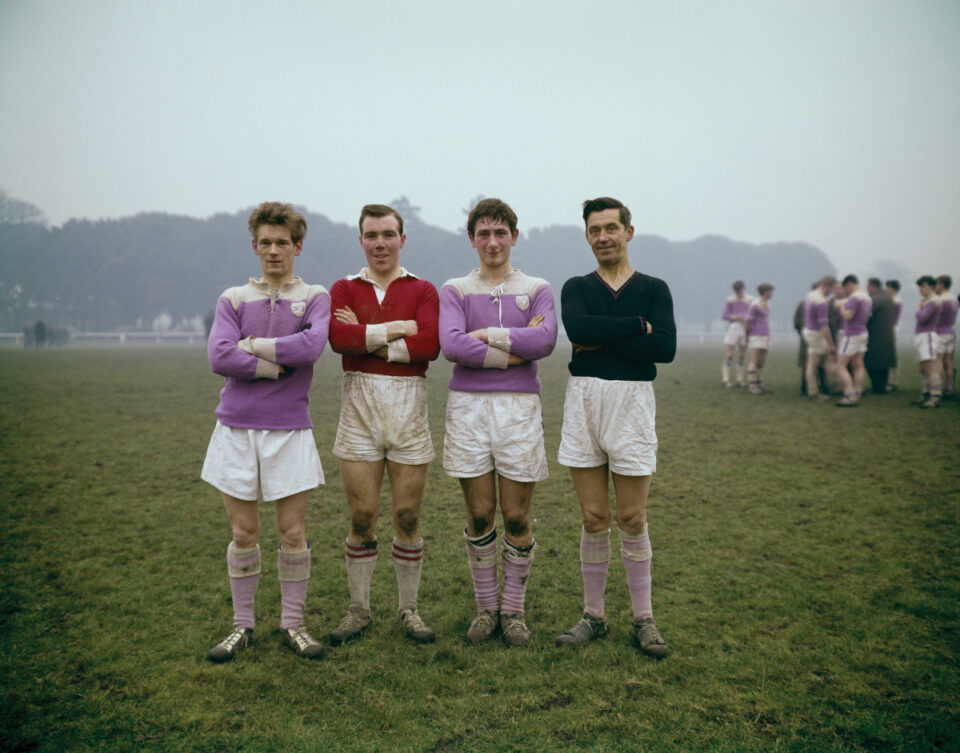 On the top floor of the gallery, the exhibition begins with black and white shots of Barcelona, Dublin, Paris and London. Lofty European rooftops sit alongside stark images of Blackfriars Station, Killiney Bay and Westminster Bridge. In one corner, a trio of images composed in 1966 moves from James Joyce's death mask to a group of grave-diggers in Dublin. Three men in black trenches rest their weight on shovels. In the foreground, a grove of trees has grown so thick that it is impossible to see what has been dug. The photograph nods to a composition made 50 years prior, Young Farmers on Their Way to a Dance (1914), by Weimar photographer, August Sander. In the portrait, young men pace along a dirt road in their finest suits. The implication of death subtly lingers. In Hofer's image, spades span the length of the diggers' bodies, whilst in Sander's, there is the hint that these men will soon be marching soldiers. Hofer integrates this awareness of past and present, even employing a knowing gaze that looks towards the future. Follow the gallery wall, and two young boys sit solemnly under the care of a white-robed priest, their hands collected in their lap. The photo, entitled Orphans, is droll and fatalist, gesturing to the children of a post-war Ireland.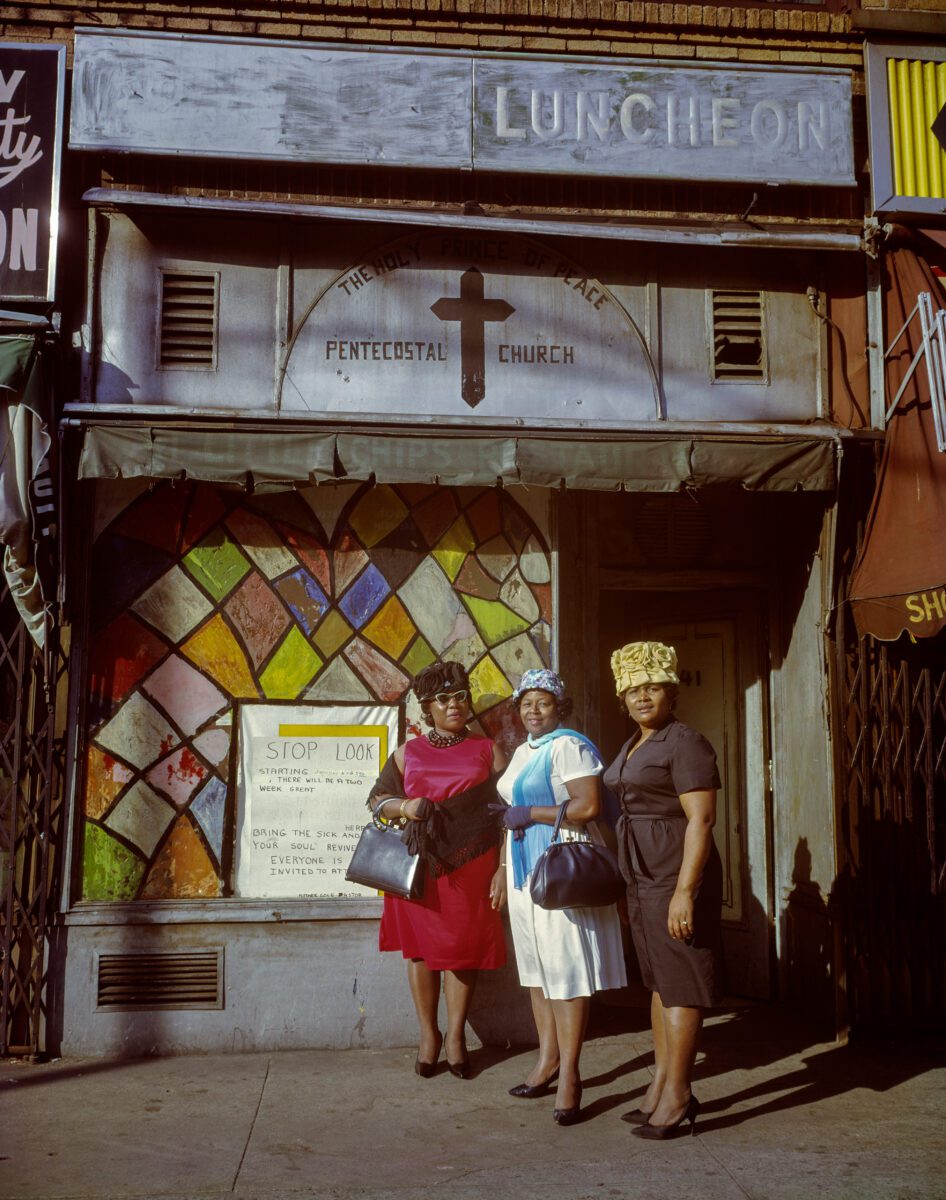 Take the stairs down a level, and a viewer is met with the Hofer's command of colour. Whilst many histories attribute the ascendancy of colour photography with William Eggleston (b. 1939), co-curators Clare Grafika and Susanne Breidenbach, show the movement began much earlier. As Brandi T. Summers explains in the exhibition's accompanying monograph Eyes on the City, "Hofer was among the group of early adopters, including Helen Levitt (1913-2009) and William Christenberry (1936-2016), to use colour outside the confines of fashion or advertising, at least a decade earlier." Hofer, who did not identify as a fine art photographer, took advantage of the fluidity between 'high' and 'low' styles, blending exposed, lighter images with darker tones. Brassy magentas and warm yellow hues radiate through images, offset by cooler urban palettes of steel and stone. Diverse and playful shots of New York frame the city in a vivacious light. In Harlem Church, New York (1964), women dressed in their Sunday best pose outside a shopfront church, donning a combination of cat-eyeglasses, glossy satin dresses and heeled court shoes. Their outfits chime in with painted triangles on a window, as the display gives off the effect of stained-glass. Hofer finds tranquility in spaces, such as in Queensboro Bridge, New York (1964), where a young Black man perches on a bicycle, or Phoenix Park on a Sunday (1966), as a police officer rests underneath a blooming cherry tree. As Peter Conrad writes in The Guardian (2018), characters are "poised in a state of perfect equilibrium."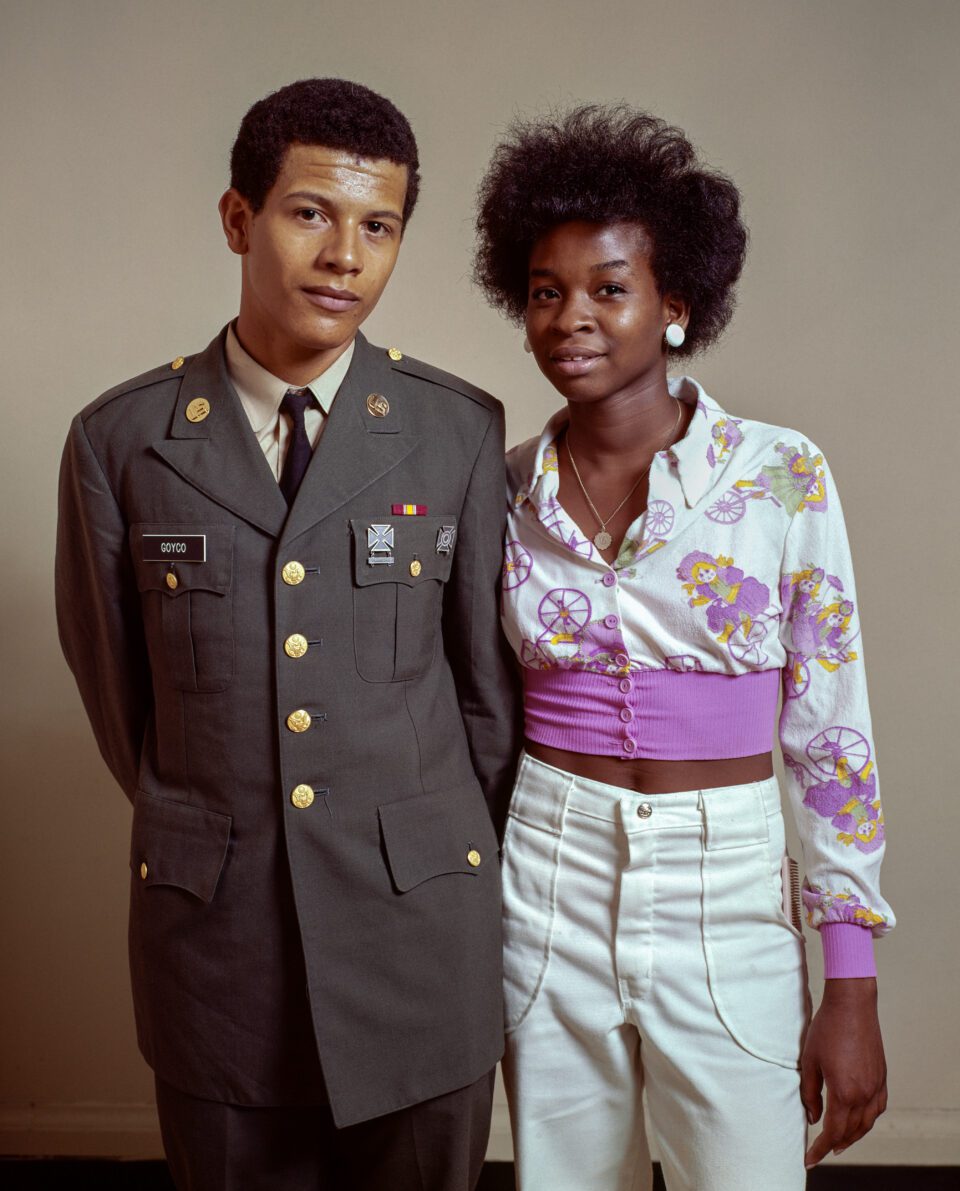 Hofer's portraits balance the dynamic between artist and subject, and emerge from a process that values listening. Hofer did not imagine her sitters as alien, but visualised herself in their shoes. She once explained, "In reality, all we photographers photograph is ourselves and the other, all the time." Individuals and personalities are skilfully interwoven, such as the four soccer players in Phoenix Park, their arms defiantly crossed in a play of awkward pride and conceit. In the 1970s, the artist focused on relationships in a series for Life magazine. As Josh Gabert-Doyon writes for Financial Times, Just Married (1974) emphasises "quiet humour and uncertain marital bliss without succumbing to satire or prodding cruelty." A man in uniform gives a muted smile next to his more casually dressed wife. The veil of youth is drawn out across their shining faces, as their bodies curve ever so slightly inward to meet each other.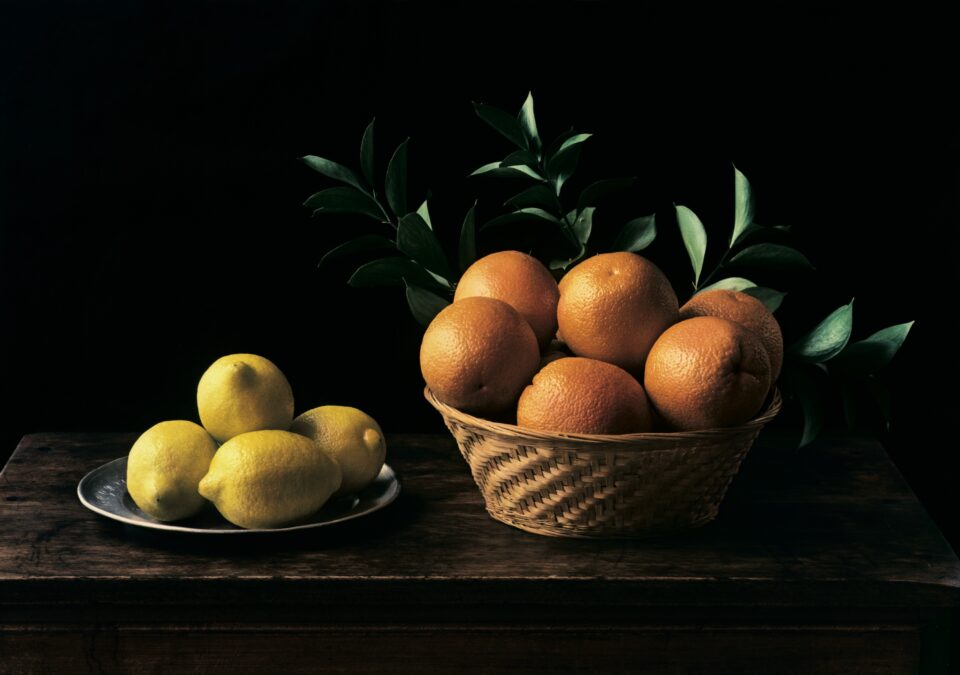 In the last room, a set of extravagant still lifes conclude the display. A pocket of oranges, leaves sprouting outward, and a plate of waxy lemons occupy the centre of an otherwise pitch-black photograph. Decadent cherries, halved limes and Oxaca jars point to Hofer's final return to Mexico city, where she would live until her death in 2009. The series, produced in the mid-1990s was heavily influenced by Francisco de Zurbaran's Renaissance paintings. In these images, the dye transfer process is applied to full effect. Deep shadows and lavish colours create scenes that are realistic and full of symbolism. Today, Hofer bears the label of "the most famous unknown photographer." The artist was ascribed as such by New York Times art critic Hilton Kramer in a 1982 review. At the time, Hofer's practice did not align with the aesthetics of the day, standing apart from the "shoot-from-the-hip" style of contemporaries such as Robert Frank (1924-2019) and William Klein (1926-2022). Yet, the artist protested it was always the work that mattered, not the fame. In a way, the attention now being paid to Hofer mirrors her own endurance. It has, in a sense, been patient over the past decade, observing with a steady, unforced eye. This exhibition recognises one of the most skilled artists of the 20th century. It breathes life into countenance, perception and posture, looking at city life from an astute lens. The result is something lyrical, as it values compassion above all else.
---
thephotographersgallery.org.uk | Until 24 September
Words: Chloe Elliott
---
Image Credits:
1. Girl, Barcelona, 1963 © Estate of Evelyn Hofer Courtesy Galerie m, Bochum, Germany
2. Harlem Church, New York, 1964 © Estate of Evelyn Hofer Courtesy Galerie m, Bochum, Germany
3. Phoenix Park on a Sunday, Dublin, 1966 © Estate of Evelyn Hofer Courtesy Galerie m, Bochum, Germany
4. Harlem Church, New York, 1964 © Estate of Evelyn Hofer Courtesy Galerie m, Bochum, Germany
5. Queensboro Bridge, New York, 1964 © Estate of Evelyn Hofer Courtesy Galerie m, Bochum, Germany
6. Hommage à Zurbarán (Still Life No. 6), New York, 1997 © Estate of Evelyn Hofer Courtesy Galerie m, Bochum, Germany
7. Phoenix Park on a Sunday, Dublin, 1966 © Estate of Evelyn Hofer Courtesy Galerie m, Bochum, Germany
8. Springtime, Washington, 1965 © Estate of Evelyn Hofer Courtesy Galerie m, Bochum, Germany
---