Sem Langendijk (b. 1990) grew up in Westerdok – a dockland district where the canals of Amsterdam meet. The photographer, who studied at the Royal Academy of Art, has long been interested redevelopment of former port cities – including those in London and New York. Now, FOAM presents the artist's debut solo show, Haven, which explores the life and character of waterfront developments worldwide – areas that are rich in social, cultural and political resonance.
Historically, suburbanisation in waterfront areas has resulted in inequality for marginalised communities. As noted in The Glocal Experience, individuals living in such spaces can be "disproportionately exposed to pollution and other environmental hazards." The de-industrialisation of New York, for example, resulted in the closure of working piers, factories and warehouses and saw employment drop from 36,000 in the 1950s to 6,000 in 2020. Whilst wealthy city-dwellers were typically able to relocate and move to other districts based on employment opportunities, those who could not afford to move were left behind.
North Amsterdam – an area in which Langendijk grew up – is another example of a neighbourhood with a fast-moving and fluctuating history. At the end of the 19th century it was deemed fitting only for "unpleasant peripheral urban functions", yet later welcomed the construction of workers' housing. Following WWII, the deactivation of central and eastern harbours resulted in large-scale pollution on both sides of the Ijsselmeer Bay, whilst the Rhine river, draining into the canals of the city, suffered from frequent oil spills, chemical detergent and pesticide leaks. By the 1980s, however, government urban development began a process of regeneration – converting historic industrial sites into residential areas. Langendijk witnessed the effects of gentrification, for instance the eviction of squatters from the Amsterdamsche Droogdok Maatschappij (ADM) – a shipyard once occupied by members of the community. The site acted as a social centre, organising arts events and festivals, presenting itself as a public resource for people from all walks of life. Langendijk photographed ADM in its final years before eviction; a selection of the resulting photographs are now featured in FOAM.
As the photographer writes in his publication Haven (2022, The Eriskay Connection), his work tells the "story of a boy in a rapidly changing environment, based on memories of surroundings that no longer exist." For many Amsterdam residents, the city and its waterfront are no longer liveable. In 2021, the Financial Times reported prices of existing homes to have increased by 14.6%, whilst numbers of homeless people have doubled in the last decade. Social housing has been significantly impacted, with many associations forced to sell to developers, whilst for young homeowners, only 3.4% can afford a mortgage.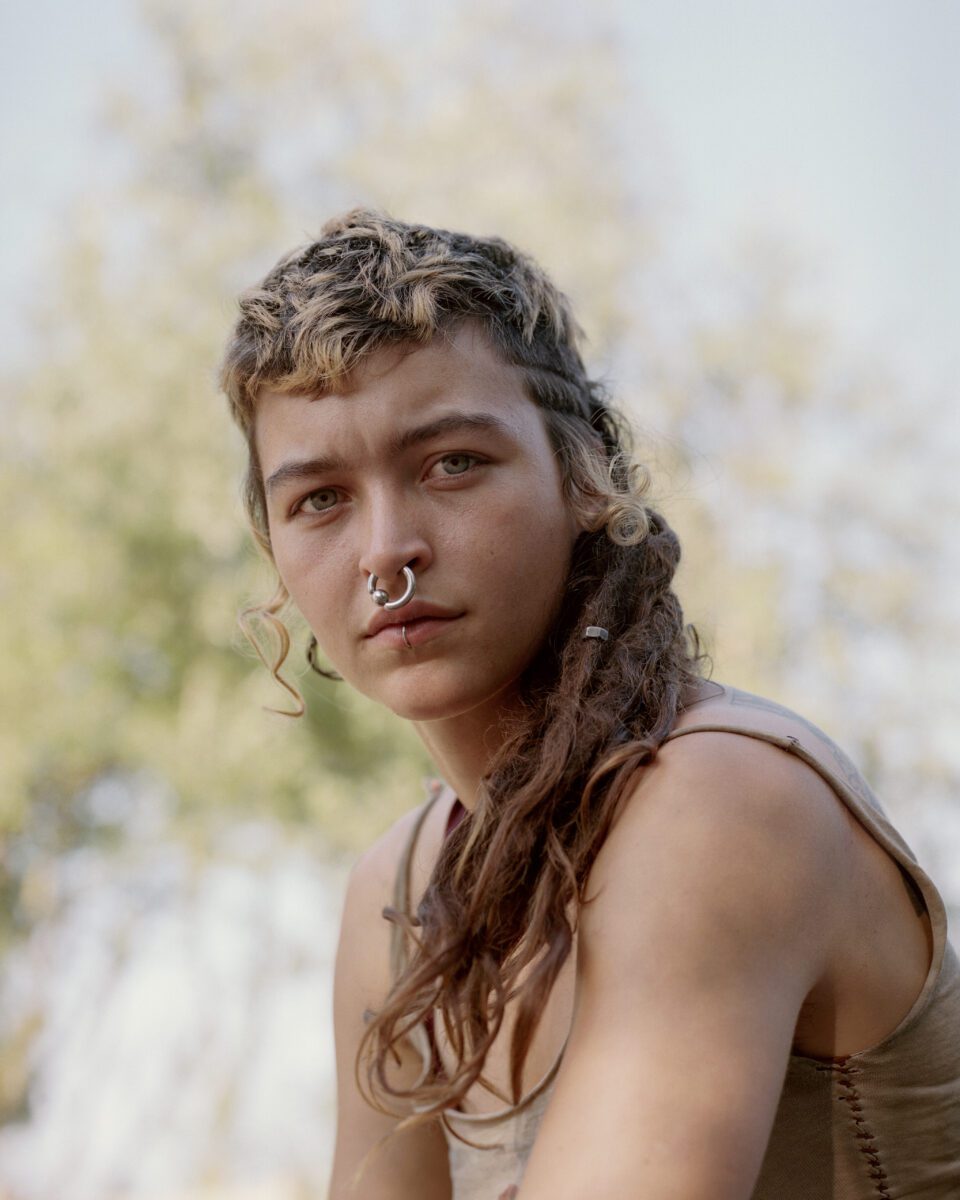 This state of limbo is exemplified in FOAM's exhibition, which asks: "who owns a city?" Glossy sky-rise buildings loom over Canary Wharf, contrasted alongside factory ruins of New York's Red Hook Grain Terminal. More often than not, images are untitled. In one shot, pastel blue hoarding blends into black scaffolding, marking the shift from abandoned urban centre to glossy new-build. Elsewhere, luxury apartments and modern architecture loom over rippling water. There is a sense of an old world fading, where the act of photography, the very necessity to document, is confirmation of a disappearing space.
Langendijk is a powerful and honest observer, making work that is deeply autobiographical and informed by his own childhood experiences in Amsterdam. In an interview with British Journal of Photography he notes: "Going back to that community was like going back to my childhood and trying to show a more adult perspective." This perspective is particularly evident in his portraits. In Summer, 2018, for example, a young woman from ADM gazes directly into the camera lens, her brow furrowed slightly, curly hair brushed to one side. Her gaze is cool and unwavering against an unfocused green background. Haven is a space of longing, where continual loss is carried by its subjects and landscapes. The show is fittingly transitory and ever-shifting – portraits blur into landscapes and faint outlines of vast cityscapes can be glimpsed in reflective windows. As curator Mirjam Kooiman notes, a viewer is invited to "read the city and its urban development, in order to question who is writing the script."
---
foam.org | Until 18 June
Words: Chloe Elliott
---
Image Credits:
1. Canary Wharf, 2019. c. Sem Langendijk
2. New York Grain Terminal, 2016. c. Sem Langendijk
3. Summer, 2018. c. Sem Langendijk