In 2020, actor Tilda Swinton and the Art Fund led an unprecedented campaign to save artist, activist and filmmaker Derek Jarman's (1942-1994) property. 7,300 members of the public and high-profile creatives, including David Hockney, Tacita Dean and Wolfgang Tillmans, flocked to support the fundraiser. In 10 weeks, a total of £3.5m was raised – the largest arts crowdfunding effort in history. The Kent site is open to the public and has become a symbol of individuality and activism.
The traditional fisherman's cottage was bought by Jarman in 1986, becoming a workspace and sanctuary in the year of his HIV diagnosis. Beyond the black-clad house, endless planes of shingle roll out into the harsh, unruly coastline. Conventional garden design is turned on its head, becoming a new facet of the artist's experimental practice. Weathered driftwood columns replace benches and ceramic gnomes, whilst structural planting is swapped with native plants, including wild, sporadic patches of sea kale, viper's bugloss and foxgloves. The result is something entirely personal – an extension of self through gardening.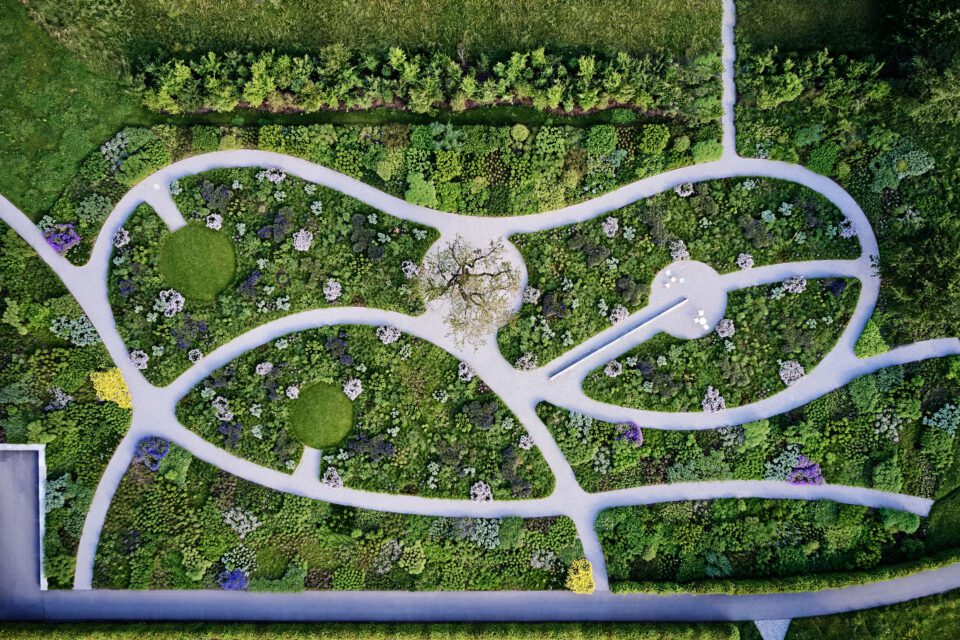 Prospect Cottage is just one of the case studies in Garden Futures: Designing with Nature, an exhibition curated by Italian research-based studio FormaFantasma. Vitra Design Museum, Weil am Rhein, traces the history and future of landscaping. These avant-garde practitioners offer new ways to combat biodiversity loss and the climate emergency, reflecting the growing trend of environmental activism and rewilding. Here, working with the natural world, instead of taming it, is the key to a brighter future. 
---
design-museum.de | Opens 25 March
Words: Saffron Ward
---
Credits:
1. Derek Jarman, Prospect Cottage Garden at Dungeness, Kent, UK, from 1986. Photo: Howard Sooley, 1993.
2. Piet Oudolf, Oudolf Garten on the Vitra Campus, Weil am Rhein, 2020 © Vitra. Photo: Dejan Jovanovic.
3. Julien de Cerval, The Gardens of Marqueyssac, Vézac, France. © Laugery – Les Jardins de Marqueyssac, Dordogne, France.
4. Piet Oudolf, Oudolf Garten on the Vitra Campus, Weil am Rhein, 2020. © Vitra, Photo: Dejan Jovanovic.