What does it feel like to enter a painting? In 2011, the first multi-sensory exhibition of works by Van Gogh opened in Singapore, with projections covering over 2000m2 of walls and floor. It immersed viewers in the artist's most celebrated works, from Sunflowers to Starry Night. It was a lauded success – attracting over 8 million visitors in 70 cities worldwide. Since then, such experiences have surged in popularity; their arresting visuals proving endlessly shareable in the age of social media.
But immersive installations are not a 21st century phenomenon. They have existed since the 1960s: one of the first artists to create this kind of all-encompassing work was Yayoi Kusama (b. 1929), whose first Infinity Mirror Room was displayed in 1965 in Castellane Gallery, New York. Kusama's concept has seen many iterations over the decades, but remains popular to this day, breaking records at Hirshhorn Museum and Sculpture Garden (2017) and, now, being exhibited at Tate Modern.  
Following the popularity of Van Gogh: Alive, more and more famous canonical works of art have been transformed for the digital age. These include Salvador Dalí's Surrealist masterpieces (The Boiler House, London) as well as Gustav Klimt, whose vibrant shades of amber and gold transformed the Hall des Lumières in New York. Now, it is the turn of British painter David Hockney (b. 1937). A new venue in London's Kings Cross Station – called Lightroom – houses Bigger & Closer (Not Smaller & Further Away), journeying through over six decades of multi-disciplinary projects. Hypnotic 360-degree visuals are cast across a single space, displaying the practitioner's most recognisable works in an entirely new way.
Hockney is known for embracing new technologies. His 2017 Tate Britain retrospective included an array of recent drawings made on iPad. "I've always been interested in picture-making technology, so this is now just on a great big scale," the artist told BBC's The One Show. Now, audiences can see Hockney's digital work come to life – from start to finish. A visual timelapse is projected across Lightroom's walls, colours gradually layering to conjure a landscape of trees. It's a fascinating insight into his creative process. "Every brush mark can be played back. That's like seeing yourself drawing," he notes. These techniques add a new dimension to the completed image, offering a behind-the-scenes view that is as rare as it is mesmerising.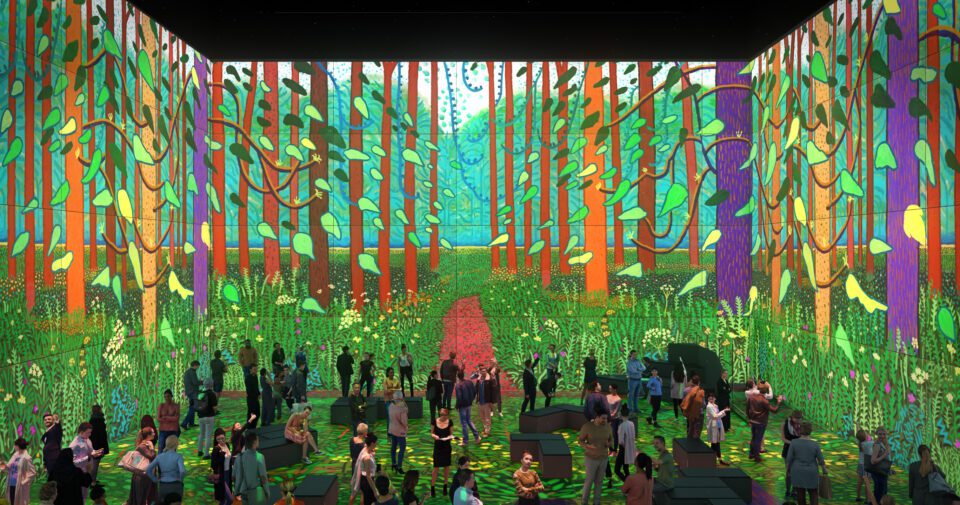 Swirls of colour engulf audiences in magenta mountainsides. Forests loom above, wildflowers and shrubs melting into the floor beneath viewers' feet. Later, visitors find themselves submerged within Hockney's iconic swimming pool snaps, distorted by waves of blue. The cycle of six themed chapters allows guests a unique opportunity to experience photographs, paintings and drawings from new angles. Audiences can even hear the artist's voice: "The world is very, very beautiful if you look at it, but most people don't look very much."
In 2023, the boundaries between art and technology are being challenged in new and complex ways. AI tools are inspiring both criticism and awe: writing novels, composing music, drawing portraits. Whilst the future of what this means for the creative industries remains unclear, Hockney's latest show serves as a reminder – and ode to – the ever-advancing world of picture-making.
---
lightroom.uk | Until 4 June
Words: Megan Jones
---
Credits:
1. Installation of David Hockney's Gregory Swimming Los Angeles March 31st, 1982  ©  David Hockney.
2. David Hockney, Bigger & Closer (not smaller & further away). Photo: Justin Sutcliffe.
3. Installation of David Hockney's "The Arrival of Spring in Woldgate, East Yorkshire in 2011 (twenty eleven)". Oil on 32 canvases (36 x 48″ each), 144 x 384″ overall, © David Hockney. Collection Centre Pompidou, Paris. Musée national d'art moderne – Centre de création industrielle.