The Parthenon is an icon of global architecture. The ancient Greek temple has stood on the Acropolis in Athens for some 2,000 years. In recent weeks, the building been making headlines, as rumours spread about the potential for the Parthenon Marbles – sculptures currently, and controversially, held at the British Museum – to be returned to Athens. What is certain is the building's indelible impact on many modern cites. For nearly three centuries, its Doric columns and pediment have been replicated the world over. Neo-classical designs appear on the frontages of banks, government buildings, memorials, churches, museums, universities and more. "The Parthenon in Athens is often viewed as a potent symbol of Western art and culture," says Tony Ellwood AM, Director at National Gallery of Victoria (NGV).
Now, it's the subject of Melbourne-based architects Adam Newman and Kelvin Tsang's Temple of Boom. Commissioned by NGV, the duo has built the structure to a third scale of the original building, drawing inspiration from its once-colourful artistic embellishments. Whilst the structure appears muted today, in the fifth century BCE it would have been painted in vibrant and vivid hues, including Egyptian blue. Newman and Tsang's project debuts with an array of dynamic and eye-catching designs – ranging from floral motifs to optical illusions by contemporary artists Drez, Manda Lane and David Lee Pereira.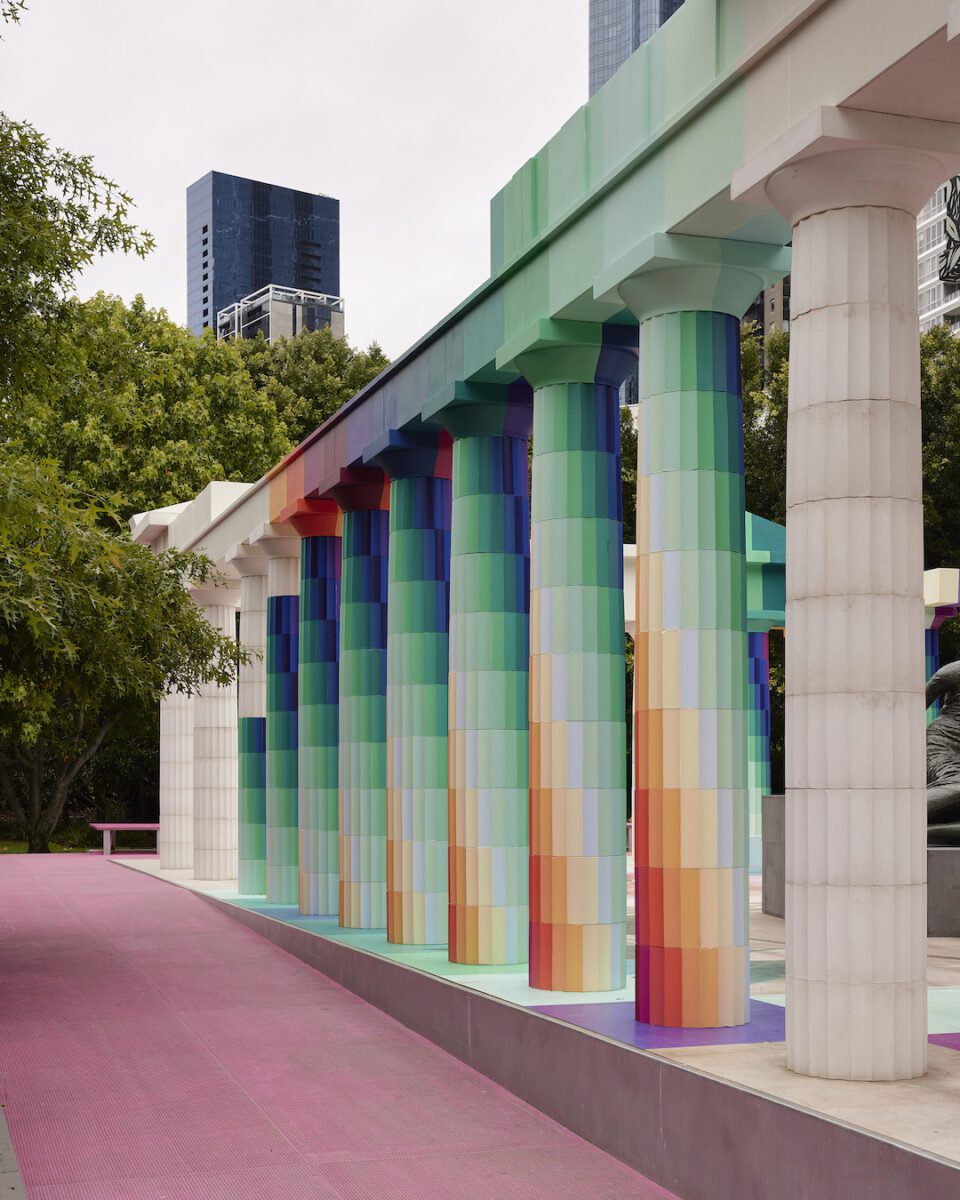 Drez's mural, for example, changes composition when viewed from different angles. Lane has depicted various growth behaviours of plants, whilst Pereira –  influenced by the work of impressionist and surrealist artists Georgia O'Keefe, Salvador Dali and Edvard Munch – has adorned the structure with large-than-life floral motifs. Temple of Boom will evolve over time. From now until August, an array of local creatives will add more decoration – resulting in a bright, engaging example of collaborative public art that, in the summer, will function as a meeting place and destination for live music performances. As Ellwood AM notes: "This thought-provoking work invites us to consider how we create and imbue architecture with meaning, as well as how this meaning can shift across time periods and cultures."
---
---
Image Credits:
Installation view of the 2022 NGV Architecture Commission: Temple of Boom designed by Adam Newman and Kelvin Tsang on display at NGV International, Melbourne from 22 November 2022 – August 2023. Photo: Sean Fennessy
The post Icons Reimagined appeared first on Aesthetica Magazine.