On 7 June 2020, a group of Black Lives Matter protestors in Bristol pushed a statue of 17th century slave trader Edward Colston into the nearby docks. The action of removing the towering bronze sparked international debate over the value that is placed on monuments, drawing attention to the traumatic histories they often represent. In 2021, Guyanese-British artist Hew Locke (b. 1959) was commissioned for Tate Britain's annual commission. The resulting project looks to the past, present and future to question nationhood, bringing people together in an age of ideological divide and social anxiety.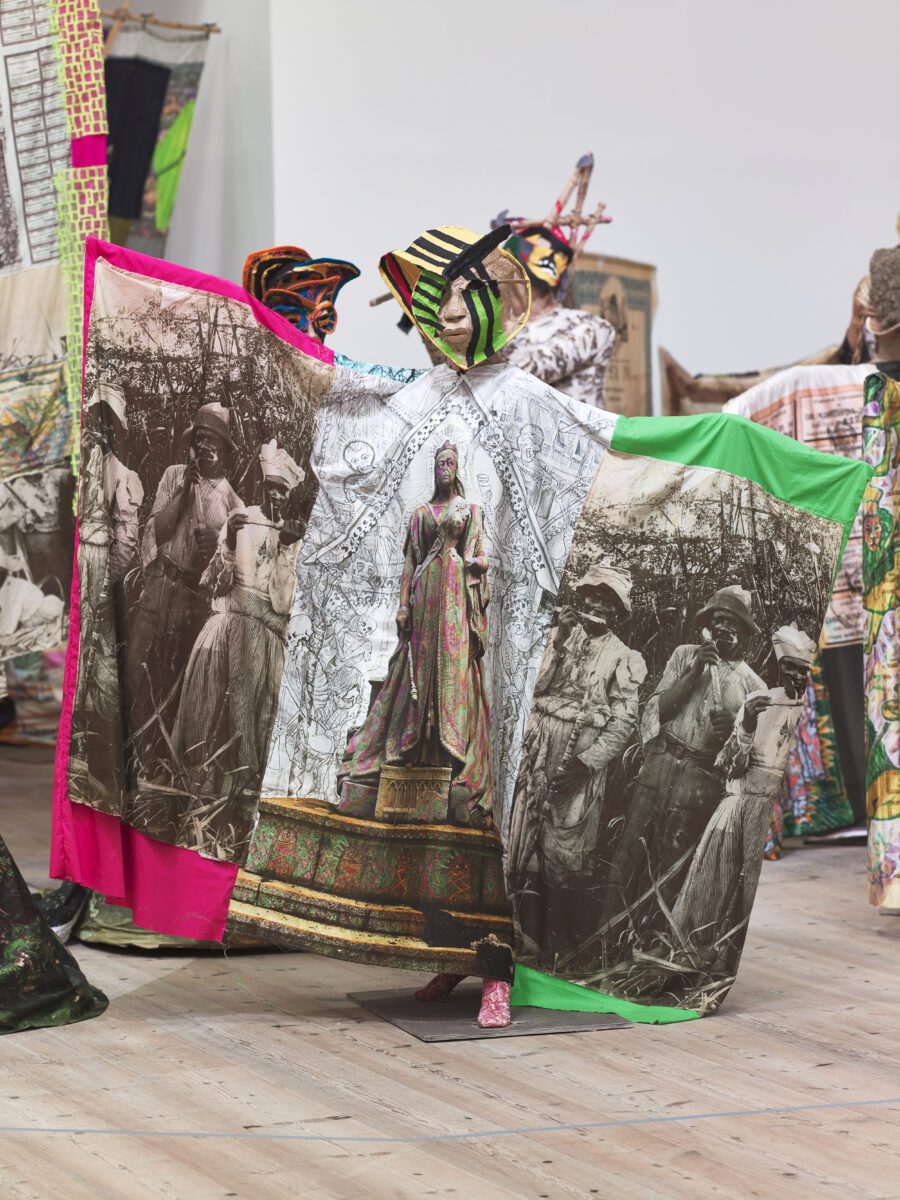 The Procession, which is now on view at the Baltic, Gateshead, draws on universal experiences of togetherness during periods of activism, celebration, mourning and religion. Visitors come face-to-face with human-sized sculptures that parade through the gallery's vast hall. Each uncanny figure contributes to the wider narrative of global financial and colonial control, as golden boat badges and fabric share certificates adorn garments. In its original context at the Tate Britain, an institution which was largely financed by sugar refining magnate Henry Tate (1819-1899), the work emphasised "the historical after-effects of the sugar business," according to the artist, "almost drawing it out of the walls of the building." At the Baltic, links between the Industrial Revolution and the British Empire echo around the room.
These subtle, yet crucial, symbolic embellishments wait to be sought out by viewers, lurking in a wider wash of carnivalesque celebration, colour and costume. In this way, the large-scale installation points to the unconscious "cultural baggage" that flows through our daily lives, as well as the layered construction of personal and collective identity. "It is highly detailed, and that's deliberate, so it will give reward to longer viewing," reflects Locke. "There are lots of little bits of evidence, hints and clues. The piece can be read as a sort of puzzle, which you can piece together. There's a complicated, messy kind of beauty." By slowing down, the true gravity of the past begins to come to light, with viewers physically and metaphorically joining the march as they uncover with the colonial histories that built Britain.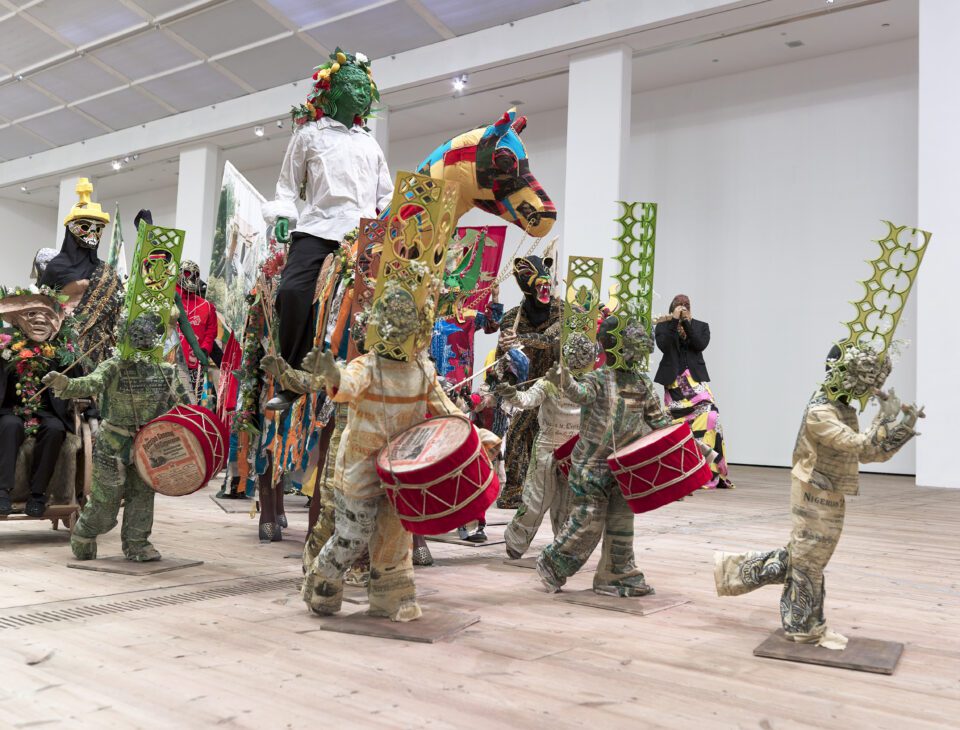 The surreal yet exuberant piece also questions the formation of power and national treasures, morphing into a "national collective unconsciousness," which changes and evolves overtime. For example, the anonymous ensemble's intangible energy now evokes images of strikes. In February 2023, The Guardian reported that up to half a million people walked out of their public sector workplace, causing major disruption to schools, trains, universities and border checks. With this in mind, urgent questions arise: Who should be immortalised in stone? Are statues relevant to modern life? Locke's The Procession unites rather than divides through these debates, engaging with the sticky web of history whilst providing hope for the future. "It is a positive movement of people – they're moving into another life," states the artist. "They may be coming from difficult times, they may be heading through difficult times, but there's an energy there which is about hope. The future. Let's make something positive."
---
Hew Locke: The Procession
Baltic | Until 11 June
Words: Saffron Ward
---
Image Credits: Hew Locke: The Procession, installation view at Baltic, Gateshead. Photo: John McKenzie © 2023 Baltic Centre for Contemporary Art.
The post Striding Forward appeared first on Aesthetica Magazine.